Frequently Asked Questions About AC Installation in Worcester, MA
When it comes to an air conditioner, installing a bigger one is not always a better idea. Even among ductless mini-splits, there are various unit sizes designed for different room spaces. The best performance comes from installing an AC that is properly sized for your specific space. An oversized air conditioner installed in your home might cycle on and off frequently, which reduces its efficiency and ability to effectively dehumidify the area. On the other hand, an undersized unit will struggle to cool your space during the hottest days in Worcester, MA.
At Gervais Mechanical, our expert AC installation team takes into account various factors, such as your building's size, insulation, and sun exposure, to ensure that your new AC installation is just the right fit.
The cost of installing an air conditioning system in Worcester can vary significantly based on factors such as the type of AC (central, ductless mini-split, etc.), the size of your residential or commercial space, and the complexity of the installation.
At Gervais Mechanical, we know that an AC installation or replacement service can be a significant investment. That's why we offer several financing options to help make this process easier on your budget. We have everything from 0% interest loans for qualified candidates to long-term, low payment options. Additionally, our Preferred Club Membership offers exclusive benefits that can further contribute to cost savings on your new AC installation.
An AC replacement can significantly decrease your energy bill, particularly if your current system is old and less efficient. Modern air conditioning systems are designed to consume less energy while also delivering superior cooling performance. And when your residential or commercial air conditioner doesn't have to work as hard to cool your space, that results in lower utility bills.
Especially as the summer keeps getting hotter, we strongly advise replacing your AC with a more cost-effective unit, such as a ductless mini-split system. Give us a ring. The expert, fully background checked AC installation pros at Gervais Mechanical will handle your air conditioner replacement with ease.
The best type of air conditioning system for your home or business in Worcester, MA, depends on various factors such as the size of your space, your cooling needs, and your budget.
Central air conditioning is an excellent choice for large houses or office spaces as it cools the entire building via a network of ducts and vents. It's efficient, powerful, and can be seamlessly integrated into an existing HVAC system. However, for most residential needs, or for buildings without ductwork, a ductless mini-split AC installation is a fast, efficient and affordable solution.
The time it takes to install a new air conditioning system can vary greatly depending on the type of system and the specifics of your home or business. For a central AC installation service, it typically takes anywhere from several hours to a full day, given the complexity of the job. A ductless mini-split AC installation takes less time, usually a few hours, depending on the number of indoor units to be installed. For larger commercial air conditioning installations, these can take a few days to complete due to the size and complexity of the systems involved.
At Gervais Mechanical, we strive to provide efficient, quality service to get your system up and running as soon as possible.
Staying updated with the latest efficiency standards for air conditioning installations is a must, and Gervais Mechanical is committed to ensuring your AC system complies with these standards.
As of January 1st, 2023, all new air conditioning units sold must bear updated SEER2 ratings. These can be found in the unit's energy guide. In all Massachusetts, including Worcester, central AC units and ductless mini-splits must have a SEER2 score of 13.4.
You can learn more about the implications of SEER2 normative in our blog.
Call the Experts: Gervais Mechanical in Worcester for Cooling Services
All Residential Services in Worcester
All Commercial Services in Worcester
24 hour emergency services, 7 days a week
18 years in business, 100+ years of experience
Professional, trained staff for all your needs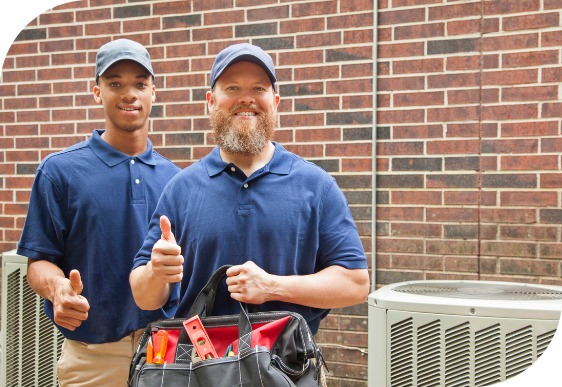 Beat the Heat with Top AC Installation Solutions!
Welcome to Gervais Mechanical's AC installation and replacement services in Worcester, MA – your trusted source for both residential and commercial air conditioning solutions!
The past summers in New England have been scorching, making a well-functioning AC system not just a luxury but a necessity. Luckily, we're here to provide you with top-quality air conditioner installation and replacement services. With our expertise, you can say goodbye to uncomfortable indoor climates in your home or business.
We'll assess your specific needs and recommend the best AC system installation for your property, whether it's a central AC or more energy-efficient ductless mini-splits. You can rely on our HVAC services for professional, efficient, and seamless air conditioning solutions. We're here to help you beat the heat!
Gervais Delivers Efficient AC Installation Service, Step by Step
The journey to beating the heat in your home or business begins with Gervais Mechanical's efficient AC installation or replacement process.
Upon arrival, our technicians will identify themselves and prepare the site, ensuring it is clean and ready for the installation of your new air conditioning system.
They will then proceed to install the condenser unit, paying close attention to every detail to ensure optimal efficiency.
Our HVAC services team will proceed to install your central air or ductless mini-split AC unit, ensuring that each component is perfectly fitted.
We will take care to charge the refrigerant and thoroughly test the system before it is ready for use. This step is critical, as proper refrigerant charging directly impacts the performance and longevity of your AC system.
Remember, AC installation should only be handled by a licensed and insured HVAC company. Fortunately, you have Gervais Mechanical's expert AC installers right here in Worcester, MA, to ensure your air conditioning installation is done just right!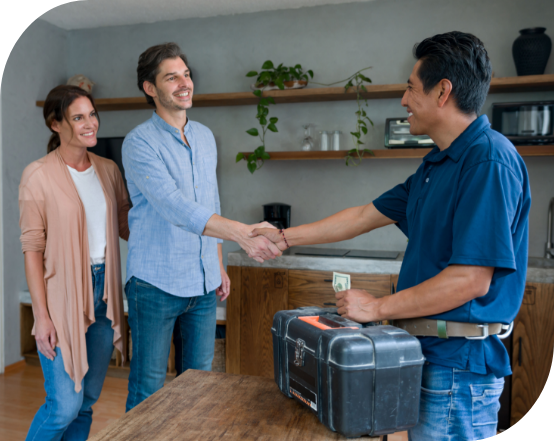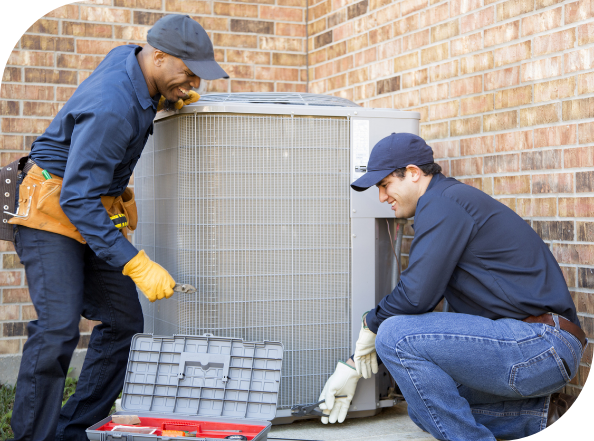 Dealing with a Costly Old AC Unit? We'll Replace It!
Do you wonder what the best AC replacement is for your cumbersome old window unit? Choosing the right air conditioning system for your Worcester home or business depends on various factors, such as space size and frequency of usage:
Central AC System: Central air is a popular choice for commercial settings due to its efficiency and ability to cool large spaces. However, it may come with a higher initial cost compared to other types of systems.
Ductless Mini-Splits: These units offer flexibility, allowing you to cool specific areas as needed. They are energy-efficient and a popular choice for residential AC replacement due to their ease and speed of installation.
Rest assured, what sets us apart from other AC replacement companies is that at Gervais Mechanical, we will work with you to find the option that best fits your needs and budget. We are your top local AC installers, ready to guide you towards the best system for your commercial or residential requirements.
Ready to Schedule an AC Installation? Great! Make Sure You Have Everything Ready
So, you've made the decision to replace your old, cost-consuming AC unit with a brand new, efficient one. Excellent! Before scheduling your AC installation, there are several key factors you should consider.
First and foremost, sizing is vital. Your new air conditioning system should be precisely sized for the room or building where it will be installed. For example, a single ductless mini-split, despite being energy-efficient, may not be sufficient to cool an entire warehouse.
Secondly, appropriate ductwork and airflow are crucial for distributing cool air evenly throughout your space. Consider a routine check-up before purchasing the new unit; our expert AC contractors will be happy to provide you with the best recommendations after a thorough assessment.
Additionally, don't forget to explore potential rebates and incentives! Energy-efficient AC installations may qualify for various programs, making your upgrade more affordable. Visit our promotions section to learn more about the programs we participate in.
Last but certainly not least, there's no need to search for other AC installation and replacement companies! Gervais Mechanical is your trusted AC solution provider. Even if you believe you've found a better deal elsewhere, simply inform us, and we'll match prices within 10% of our competitors.
Gervais Mechanical: Your Best Allies for All AC Services in Worcester, MA
When it comes to beating the summer heat in Worcester, MA, Gervais Mechanical's expert installers are your best allies for choosing the right AC replacement for your home or business.
From considering essential factors such as sizing and ductwork to the entire air conditioning installation service process, we've got you covered. Unlike other AC companies, we are dedicated to finding the best solutions for both residential and commercial installation and replacement, ensuring your comfort throughout the hottest time of the year.
Whether it's a complete central AC replacement or a new ductless mini-split AC installation, our expert air conditioning installers will provide efficient and reliable cooling solutions.
Leave the sweating to us while we install your unit. We are committed to ensuring a cool home or work environment for you all summer long!
Gervais Mechanical provides service in these Massachusetts communities: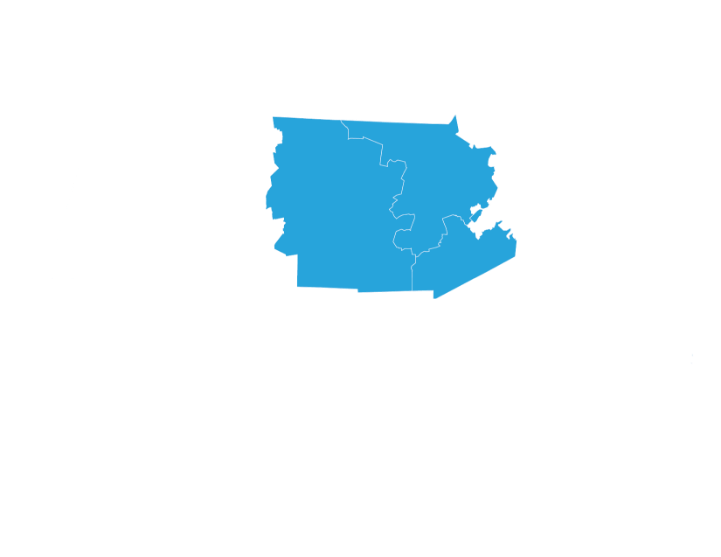 When air filters are designed, they're assigned a MERV rating. MERV stands for Maximum Efficiency Reporting Value. It's a valuable…
Introduction Your furnace plays a huge role in your home, and it is important to ensure it is always in…
The winter season is often accompanied by dry air, which may cause skin irritation, sore throats, and damage to wooden…